2024 Lexus TX
Near San Antonio, TX
Innovation has always been the driving force at Lexus, and now the brand is once again striking at the heart of one of the most competitive classes in the luxury car market with an all-new 3-row SUV: the 2024 Lexus TX.
As Texans, we can't help but think the TX name is fitting: this generously sized SUV has three rows of wide-open space for passengers to luxuriate in. What's the best seat in the house? In the 2024 TX interior, the answer is obvious: all of them.
You can learn more about 2024 Lexus TX preorder options at our Lexus dealer near San Antonio today. Stop in and discover why the competition is growing nervous at the debut of this world-class new luxury SUV for sale in Texas.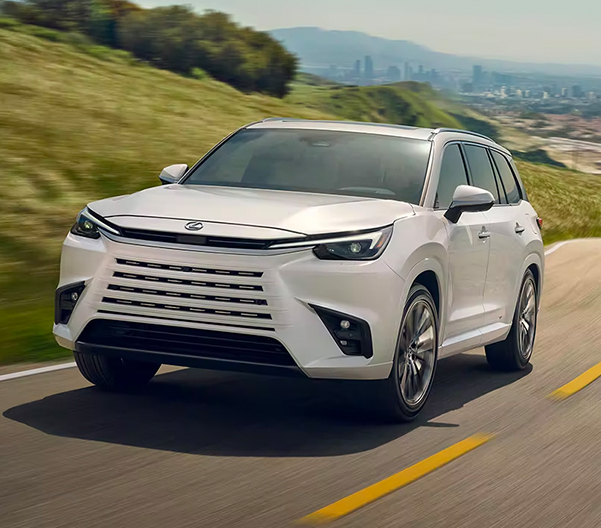 2024 Lexus TX Specs & Powertrains
This new Lexus SUV is powered by one three advanced 2024 TX engine options, two of which blend thrilling electric performance with the proven reliability and power delivery of internal combustion engines.
If you buy a new 2024 TX 350 near San Antonio, you'll benefit from a quiet-running, highly refined 2.4-liter turbocharged four-cylinder with 275 horsepower. Planning to preorder a TX 500h in San Antonio? If so, know that this TX trim level upgrades the base 2.4-liter engine with hybrid technology, mandatory Lexus all-wheel drive and the confidence-inspiring DRS system.
At the very top of the pecking order is an all-new Lexus 3.5-liter plug-in hybrid engine. This state-of-the-art, 406-horsepower powertrain -- which is making its debut concurrently with the new TX reveal -- blends six power-happy cylinders with a sophisticated electric propulsion system that offers up to 33 miles of electric TX range. It's yours if you reserve a new TX 550h+ near San Antonio today.
2024 Lexus TX Interior Features
The 2024 Lexus TX interior is home to several upscale features and the latest in driver-assistance technologies. As you scan the driver-focused cockpit for the first time, you'll see a delightful blend of the expected -- such as the exemplary build quality and top-notch materials -- and the unexpected, such as a 14-inch touchscreen and available multi-colored illumination accents.
Other optional features include the symphonic 21-speaker Mark Levinson® PurePlay Surround Sound System and an array of storage and charging solutions throughout the cabin.
Order a New 2024 Lexus TX Near Me
Want to submit your 2024 TX reservation near San Antonio or learn more about the official TX release date? Contact North Park Lexus of San Antonio today. We'll share all the ways your life behind the wheel will be transformed by this all-new 3-row Lexus SUV.