THE 2022 VALERO TEXAS OPEN - MARCH 28 - APRIL 3
Our Lexus dealership in San Antonio, TX, is proud to be a sponsor for the Valero Texas Open, the 3rd oldest PGA TOUR Tournament. As engaged members of the San Antonio community, the team at North Park Lexus of San Antonio is honored to be a sponsor of this historic golf tournament. For the past 90 years, the Valero Texas Open has been played in San Antonio, TX, making it the oldest Professional Golf Tour event to be held in the same city for its entire existence. Make sure to catch the action from March 28-April 3, 2022, and see golf's brightest stars on display. Big name players like Rory Mcllory and Texas native Jordan Spieth will be present at this year's tournament. For a full list of players committed to go to the tournament please visit the below link to the Valero Texas Open official page:
Visit our San Antonio Lexus Dealer at the Valero Texas Open
Who will be crowned as this year's Valero Texas Open champion? With some of the world's best golfers always in the mix, it's bound to be a competitive tournament. See this historic golf event in action at TPC San Antonio in San Antonio, TX, beginning March 28-April 3, 2022. Tickets are on sale now!
Visit Our Tents At The Tournament
Visit our Main Lexus tent to enjoy a cool environment with lounge chairs. We will also be offering a special souvenir, so come see us!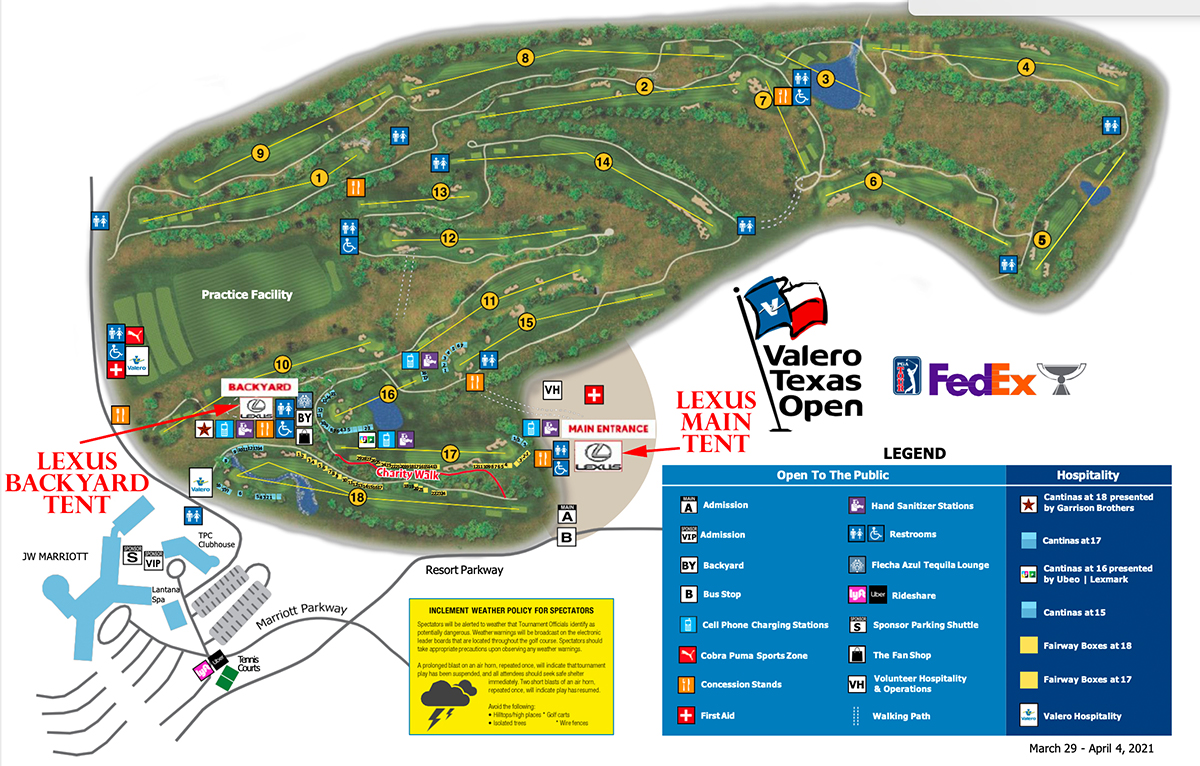 2022 Hole-In-One Prize
We are excited to announce that there will be two hole-in-one prizes this year! On Thursday March 31st and Friday April 1st, the hole-in one prize will be the all-new 2022 Lexus NX and on Saturday April 2nd and Sunday April 3rd, the hole-in-one prize will be a brand new 2022 Lexus LC Convertible! At 2019's tournament, Si Woo Kim aced the 16th hole at Valero Texas Open. With even more chances to win, will one lucky golfer be driving home in one of these incredible Lexus models? Come join us on the greens to find out!
LEXUS VEHICLES RECEIVE COMPLIMENTARY PARKING FROM APRIL 1-4. Parking is only available at the River City Community Church and a shuttle will be provided.
---
• FAQ's •
Q: Will the tournament have any capacity restrictions due to COVID-19?
A: No, the tournament will be held as its normal capacity for this year's event!
Q: How will North Park Lexus be involved with the Valero Texas Open?
A: We will have a large tent at the event as well as a major sponsorship role. At the tournament, we will have 20 Lexus vehicles on display on the grounds for spectator viewing and staff available to answer any questions you may have. In addition, all golf players for the tournament will be provided a complimentary Lexus to drive for the tournament!
Q: Where can I find parking on the days of the tournament?
A: We will have complimentary Lexus vehicle parking available. There will be a shuttle provided for easy transportation from the parking lot to the tournament.
Please contact North Park Lexus Of San Antonio if you have any additional questions about the Valero Texas Open or our involvement with the event!