Diamond Coate
North Park Lexus of San Antonio has a beautiful product
that is worthy of protecting your New Lexus inside and out at the time of purchase!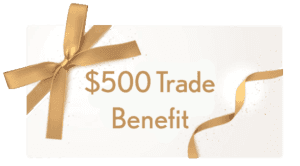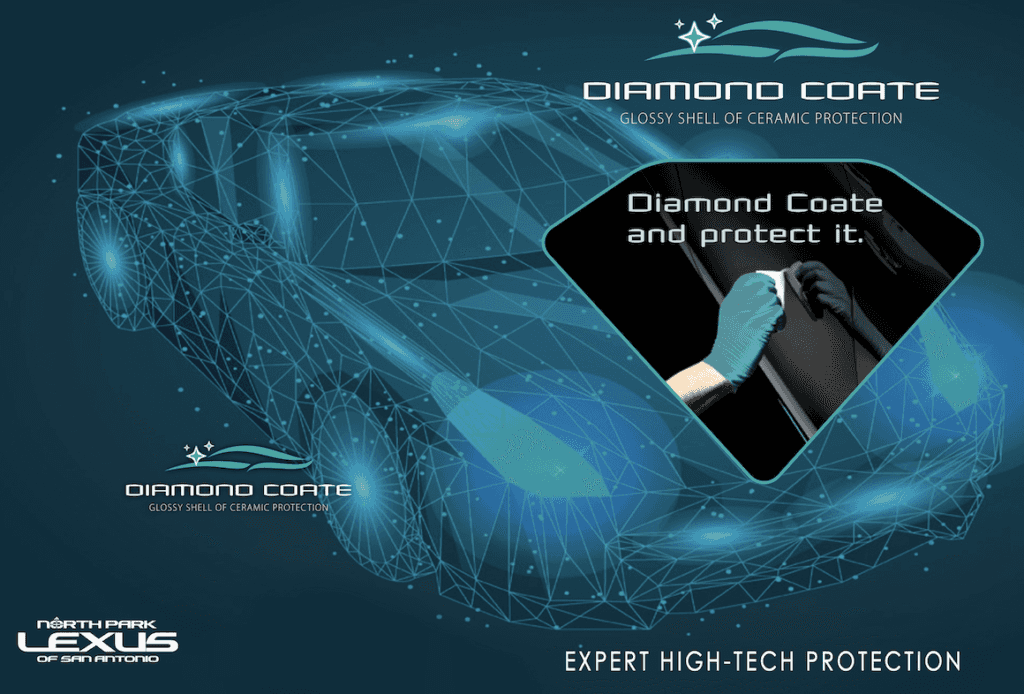 Your vehicle can be exposed to all sorts of unexpected surprises.  Inside your Lexus, we all have the accidental food or drink spills, make up or crayon stains, greasy french fries and even chewing gum.  We also experience the exterior paint fading, chalking and loss of gloss caused by intense heat and sun, bird droppings, tree sap, love bugs, water spotting and the list goes on. We have discovered a product that will help keep your Lexus looking showroom clean inside and the paint looking just as sparkly as the day you got it!
Along with the Diamond Coate for your exterior paint and the leather/interior protection, we are bundling this great product with our Ceramic Window Film!  This special ceramic film cuts the interior heat by 98% in your vehicle!  In South Texas, this is a must!
Enjoy a Complimentary Anniversary vehicle detail* with every purchase of this bundle as well as a $500 Trade Benefit** that will continue to benefit you as you move into your next Lexus down the road!  It's truly the gift that keeps on giving…every day benefits with this bundle and such a needed product for all that South Texas offers our vehicles.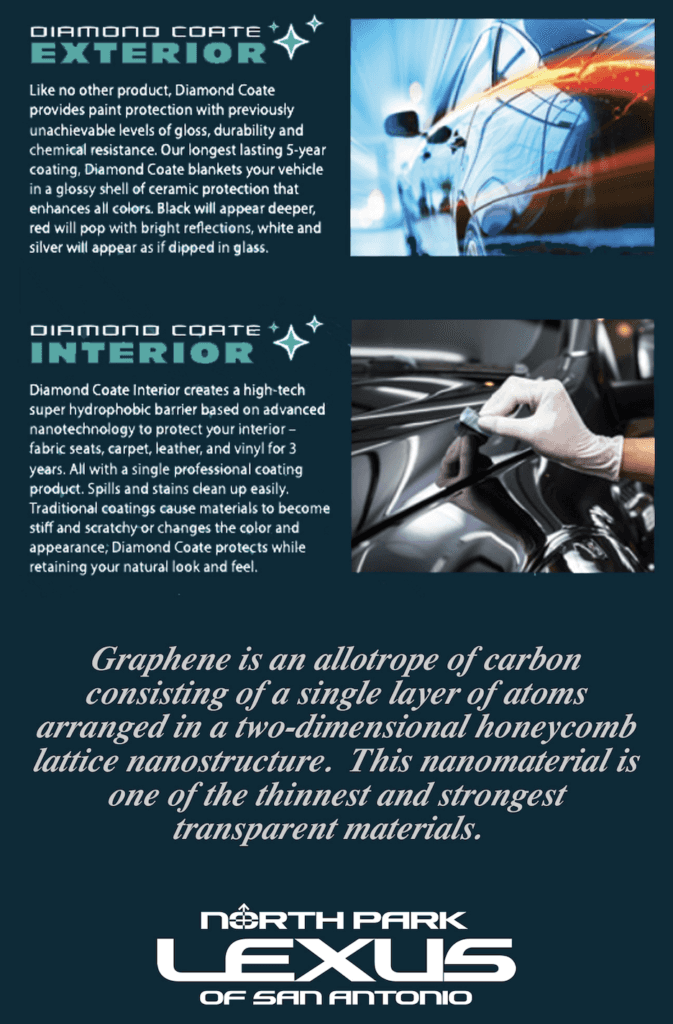 All New Lexus vehicles will have this great protectant and ceramic film added to their vehicle at our dealership with the package price indicated.  Please see your sales consultant for details and pricing.
*On the 1 year anniversary of your vehicle's protection and Diamond Coate application, you can receive a complimentary vehicle detail!  Just schedule your appointment within 30 days of your 1 year anniversary!  (This product must be applied at the time of the purchase of your new vehicle.)
** $500 Trade Benefit allows you to receive an additional $500 toward the value of your trade when you make your next Lexus upgrade!  This allows you to improve the value of your vehicle & protect your investment.  This trade benefit applies to your vehicle if we applied the Diamond Coate and when you trade your vehicle back into North Park Lexus of San Antonio!