Recent Grad Program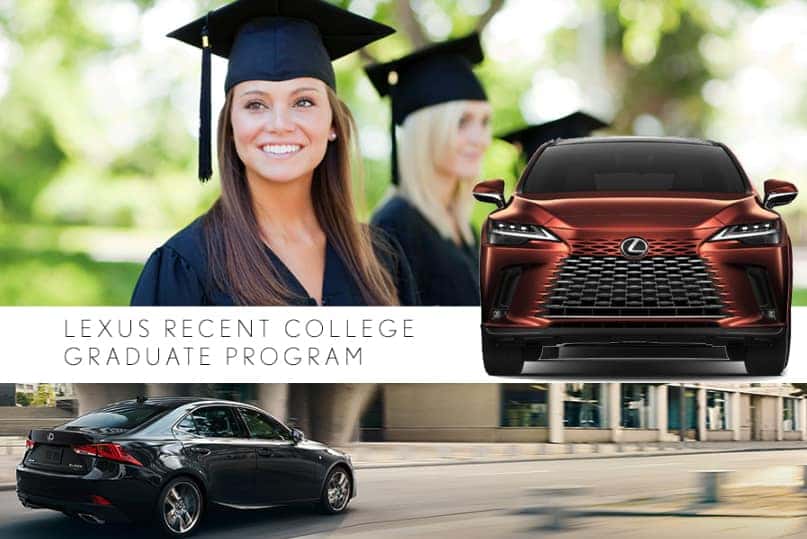 Save with the Lexus
College Graduate Program!
Graduating from college and earning your degree is no easy feat, and at our San Antonio Lexus dealership, we applaud you.  Whether you're graduating from the University of Texas at San Antonio, Texas A&M, Trinity University or one of Texas' other fine institutions, all those late nights of studying and all-day cram sessions have paid off, and now you can officially say you did it! On behalf of all of us at North Park Lexus of San Antonio, we want to say congratulations on your accomplishments. Now it's time to head off into the real world and get going down a new road, and we want to give you a hand.
At our Texas Lexus dealership, we're pleased to have special offers readily available for recent and soon-to-be graduates. We'll help you get going down that new road in a sleek and sophisticated new Lexus. With our assistance, you'll be able to pull up to your first day on the new job in a stylish Lexus IS Turbo sedan or NX Turbo crossover. Or, if you're planning on taking a lot of trips across the Lone Star State to visit your college friends, we can get you behind the wheel of the fuel-efficient Lexus UX model. Take a look at our offers and see which model best suits your new lifestyle!
Which Offers Are Available to Recent and Soon-to-Be Graduates?
Receive a $1,000 reward if you purchase or lease a new Lexus.
Take advantage of competitive APRs and lease terms on new Lexus and L/Certified vehicle purchases and leases. Buying or leasing a new Lexus is a great way to begin building your credit!
Get your degree, or show us that you're almost there:
Show proof that you obtained a degree from an accredited four-year college, university or registered nursing degree program in the past two years, or that you will obtain such a degree in the next six months.
Show us proof that you graduated from an accredited two-year college, junior college, technical college or university during the past two years, or that you will graduate within the next six months.
Show us proof that you're enrolled in or have graduated from an accredited graduate degree program during the past two years.
Show us proof that you graduated from an accredited two-year trade or vocational school in the past two years or plan to graduate within the next six months.
Give us proof of employment:
When you submit your credit application, you'll need to show us that you're currently employed, or will begin your new job within 120 days of the contract's date.
Lexus Financial Services must determine that your income is sufficient to cover living expenses and your new vehicle payments.
That's all you need to be a part of our college graduate program! Stop by our San Antonio, TX, Lexus dealership for more information and to test-drive your favorite model.
Local Colleges & Universities with Eligible Students Include (But Not Limited To):